Have you seen that commercial where the man is at the airport and checks his smart phone to see his kids come through the door after school?
I'd like to be able to do that.
You can also increase your chances of winning by sharing the contest with your friends, family and online connections.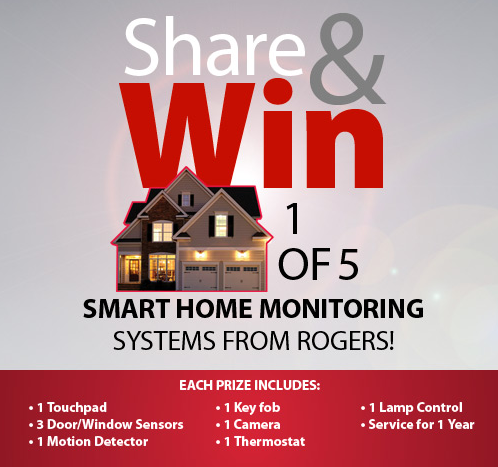 I don't know how many times it's slipped my mind to turn off the air-conditioning when we've headed out of town or the kids have forgotten to turn off the lights in their rooms! With the
Rogers Smart Home Monitoring system
, I can take care of those worries remotely, using my iPhone or iPad*!
The system would so be handy if we owned our own cottage...
The system at Pattinson's cottage sends him text messages when the power is out or the temperature drops below 6 C. And he receives photos from a security camera whenever someone has been checking out the property. ~ Source: CBC.ca
A girl can dream right?!
The
Rogers Smart Home
system features:
real time 24/7 monitoring,
instant customizable alerts,
view and control your home remotely,
automate sensors, thermostat, lights and appliances,
save energy and save money,
and more.**
Do you have children? Do they get home from school before you do? Have you just moved and aren't sure about the area?
How much would you pay for peace of mind?

When you go to
rogerssmarthome.com
contest there are 4 quick 'n easy steps to enter:
Page 1: Enter the contest by providing your contact information
Page 2: Answer a "what's important to you" question
Page 3: Check the boxes that apply to you (4 survey questions)
Page 4: Share! Increase your chances of winning by sharing via social channels/email (there are simple share buttons for Facebook, Twitter & Email) but you can share it other places as long as you use your PURL.
Prize valued at $1,518.83 each and includes:
1 Touchpad
3 Door/Window Sensors
1 Motion Detector
1 Key fob
1 Camera
1 Thermostat
1 Lamp Control
Service for one year
If you own or rent your own home, live in the Province of Ontario, Canada and are the age of majority... enter this contest today and then get sharing, you have until May 16th!! Go on... ENTER!
If you want to know more about how this all works, feel free to watch this video.
*Any smart phone and tablet, see Rogers site for details.
**The system is both connected via wires and also cellular. The components are wireless so if you move, you take them with you!
Disclaimer: Shasher's Life or those affiliated with this blog are not responsible for any changes Rogers may make, choosing the winner or shipping this prize.We're are simply sharing it with you.