If you live in the Province of Ontario, you have less than a month to enter to
This prize is valued just above $1,500!
This contest is a "Share and Win". Increase your chances of winning by sharing the contest with all your friends, family and online connections.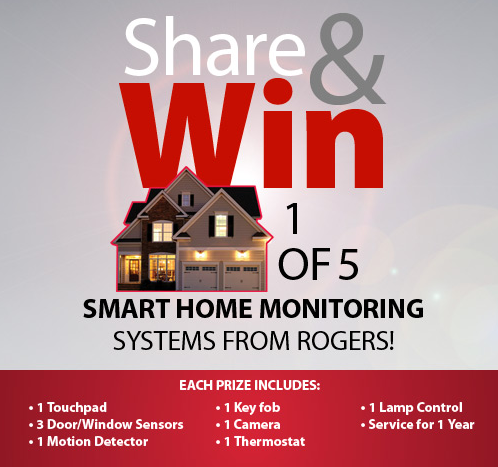 Do you have children? Do they get home from school before you do? Do you have a habit of forgetting to turn off your lights or turn down your heat or A/C when you leave the house? Have you just moved and aren't sure about the area?
Would you like some peace of mind?!
The
Rogers Smart Home
system features:
real time 24/7 monitoring,
instant customizable alerts,
view and control your home remotely,
automate sensors, thermostat, lights and appliances,
save energy and save money,
and more.*
If you own or rent your own home, live in the Province of Ontario, Canada and are the age of majority... enter this contest today and then get sharing, you have until May 16th!!
*The system is both connected via wires and also cellular. The components are wireless so if you move, you take them with you!
Disclaimer: Shasher's Life or those affiliated with this blog are not responsible for how Rogers will choose the winner or shipping this prize.I am just sharing it with you.